---
Around the world, we recently turned the page, not just to the beginning of a new year, but also to a new decade. This reminds us of Yoga Sutra 1.12, which challenges one to have persistent effort without attachment to the end result. It is the quality of our mind during this process that is key. We at Yoga Alliance have used this time to reflect on our continued commitment to support our membership of yoga schools and teachers and the broader yoga community overall.
 
In 2019, we up-leveled the standards underlying the RYS 200 credential, engaged in meaningful conversations with members from around the world, and invited U.S.-based Certified Iyengar Yoga Teachers to join Yoga Alliance as Registered Yoga Teachers. 

We will carry this commitment into the new year as the new standards underlying the RYS 200 credential go into effect in February along with the ethical commitment that all Yoga Alliance members will make. Later this year, the up-leveled standards underlying the RYS 300 and RYS 500 professional credentials will be unveiled along with the relaunch of the Yoga Alliance Foundation, among other initiatives. 

This work would not be possible without you. We thank you for your continued engagement and commitment to bringing unity, integrity, inquiry, equity, and seva (service) to your life and your community.
Here we are.....on the edge of a new decade, peering over. What's in store for your 2020? I call it the year of amazing eyesight (or insight...or hindsight). Whatever you bring to your life make it an evolutionary journey and continue to evolve your sight. Here are a few affirmations as you ponder the upcoming decade:
"Be stronger than your excuses."
"Don't let your past determine your future."
"Morning's sunrise does not define itself by last night's sunset."
"Travelling....It leaves you speechless then turns you into a storyteller."
---
When Autumn moves towards Winter and days become shorter, our circadian rhythm slows down and tries to match the rhythms of nature. Physiologically, we need to re-calibrate and reset our internal clock. Maybe go to bed a little earlier so we can work with nature to feel more integrated in our life. Seasonal changes can bring about unrest and un-grounded-ness if we work against it so please take some time to heed the wisdom of mother nature and right now she's telling us to slow down. Eat slower, dress slower, etc. And when we slow down, we become more aware of those subtle little shifts around us and how our days and nights are unfolding. Each one of us has an entire universe inside our body to explore. How are you honoring that universe?
---
It really does take a village to raise a yoga studio. And on Thursday, Nov. 7th, we're turning 9! My heartfelt THANK YOU to everyone who has walked through our front doors over the last 9 years. As a way of showing our appreciation all of our yoga classes on Thursday, Nov. 7th are free!
Do you think it's possible to fall asleep but still be conscious of yourself sleeping? You're awake but you're asleep. Yep, sounds like an oxymoron.  Well, I wouldn't have believed it until I experienced this phenomenon during a Yoga Nidra master training last month in Seattle with my teacher, Yogarupa Rod Stryker. In this 40 hour training, we learned the differences between mind and consciousness. I'd always thought they were the same thing, but our mind is an aspect of consciousness. We can shut our minds down when we go to sleep but we can still have awareness in our consciousness if we set an intention to stay alert while our mind is falling asleep. And it is in this deeply relaxed, restorative state that we're able to observe various components of our mind. "The more we can relax, the more we perceive."  In this 5 day training, we did 14 Yoga Nidra practices and most of them came directly from the Upanishads…ancient teachings more than 3000 years old taken from the Rig Veda….the oldest scriptures known to humankind and the core of our yoga tradition. 
Now, I'm not saying you'll stay awake when you practice Yoga Nidra, but you'll still get the incredibly rejuvenating and restorative benefits it will bring to your body. Yoga Nidra is like pressing the "reset" button. I'll be teaching Yoga Nidra on December 8th to defend against the stressors of the upcoming holiday season. Space is limited so please sign up early and bring a pillow and blanket.
---
As part of our advanced teacher training schedule, trainees will be presenting unique and wonderful Yoga workshops for $5 including: Yoga for Addiction Recovery, Yoga For Trauma Recovery, Yoga For Arthritis, Yoga For The Chakras, Chair Yoga and Wall Yoga.
Outside of the training and for the first time, we will be offering a pre-natal aerial yoga workshop with Nancy Jeffryes and prenatal partners yoga workshop with Alleah Erica Clarke. So take advantage of one, two or all of these amazing workshops coming your way soon. Definitely not your average run of the mill yoga, that's for sure!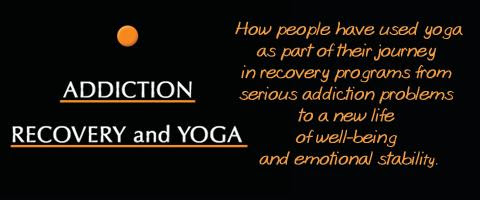 ---
 by Jayne Bernasconi
This article (below) was submitted to Yoga International for publication.  The photos were taken by HI's creative services.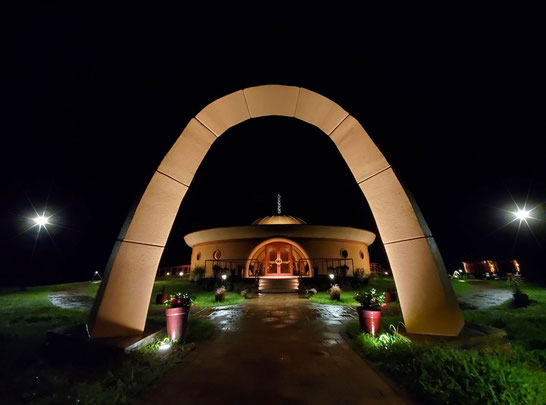 The atmosphere is palpable on the morning of July 16, 2019.  My alarm clock is set for 3:40am so that I can assemble with 200 other residents and guests on the first floor of Himalayan Institute in Honesdale, PA.  We're all dressed in our best to start the procession up the stairs for puja of the Adi Pitham.  Adi Pitham mean the original shrine in the Sri Vidya tradition. Tea lights are set up as a pathway on the carpeted floor so we can all see in the dark to bid farewell to this shrine.  As the consecration begins, I start to feel how monumental this moment is for the Institute. 
      The first time I stepped into this room was back in 2012 and wondered "why are we paying homage to a rock?" I didn't understand the significance of a "spotlighted rock" on the alter but did notice there was an enormous amount of energy surrounding my body.  Later, I found out that the rock came from a sacred cave in the Himalayan Mountains where the great Sages of the Sri Vidya tradition did their sadhana (devotional practice) for thousands of years. This rock has been infused with energy from those Masters.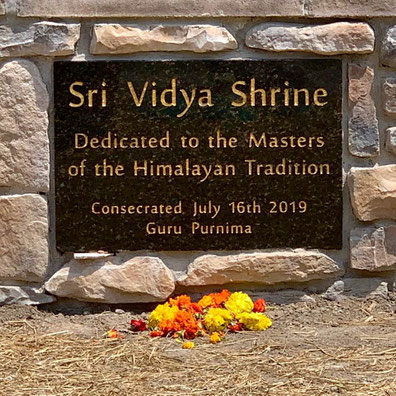 The Spiritual Head of the Institute, Padit Rajmani Tigunait (or Panditje as he's known) recites ancient Tantric matras to begin the process of removing the rock, carried by his son, Isham, to the newly built shrine behind the main building about 500 yards away. 
      The birds are just waking up and the sky has hints of orange and pink streaked across the horizon.  We are all silent and wide eyed, waiting with anticipation.  Timing has to be exact. At precisely 5:41am, complete with a full moon above, we all assemble under the archway of the new shrine.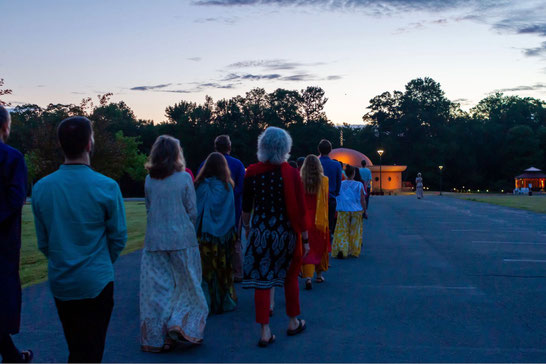 The orange archway is one of the Shrine's hallmark features and its significance is enormous. This is the official entrance and where the next part of the ceremony takes place.  Panditje calls in the Divine Mother, Durga, by reciting a set of mantras from the first chapter of the Durga Saptashati.
      Not only does this gateway lead us into the Temple but it also symbolizes the gateway into our own body, our individual temple.  If you trace a line with your finger from the base of one nostril up and over the tip of your nose to the other nostril, you'll trace an arch.  And this nose arch is the breath gateway into your body's temple.
      In yoga, pranayama (breath work) is the gateway to transforming the mind.  So, likewise, when we physically walk underneath this archway, we are both led inside the Temple and led inside our body's Temple by way of pranayama techniques. Now, when I close my eyes and bring my attention to my nostrils for nadi shodhanam, (alternate nostril breath), I image this new golden archway of the temple as the base of my nose.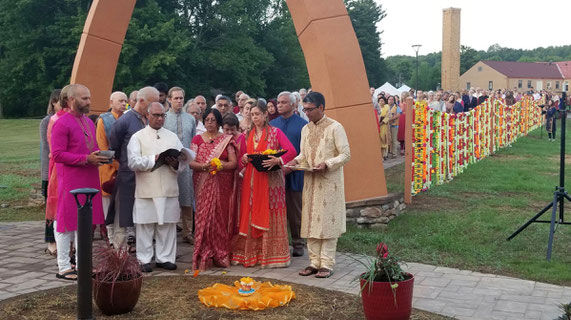 After several more stops for Puja around the outside and inside of the Temple, we gather and one by one begin to pass through the inner most sanctum of the temple called the Garbha Griha room where the "infused rock" now resides.
       Flashback to 2016, Khajaraho, India: I was taking part in HI's "temple consecration." It was my first trip to India and my teacher, Yogarupa Rod Styker, explained how sacred the Garbha Griha space was.  "When you pass through, only stay in there a few moments. Let the energy of pure consciousness envelope and absorb into you."  We were told it is the sanctum sanctorum, the innermost sanctum of the temple where the murti (idol or icon) of the temple resides. Literally the word means "womb chamber" from the Sanskrit words garbha for womb and griha for house.
      One of the goals of this current Sri Vidya Immersion/consecration, according to longtime teacher and resident, Shari Friedrichsen, is for participants to realize and experience what a beautiful and lively shrine we each are.  The process of discovering the shrine within begins by turning the mind inward. We are reminded to also honor our inner shrine, our body.  "Pay attention to the major and subtle effects prana has on your practice" says Friedrichsen. "Re-connect and re-commit to your breath.  And know that it's the gateway into your practice."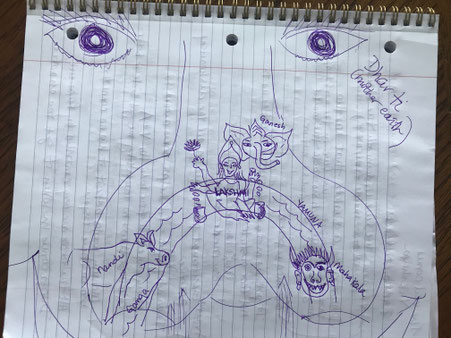 A sketch from my notebook to help give a visual of the forces/deities who resides at the archway
during one of Panditje's evening Satsangs (or lectures).
At this entrance point, Panditji recites a mantra to invoke six divine forces for protection that reside at the archway:
·      Ganga and Nandi on the right
·      Yamuna and Mahakala on the left
·      Lakshmi and Ganesha in the center top of the arch. 
And all of these spiritual forces are presided over by Dhartri, a special emanation of the Divine Mother, Durga.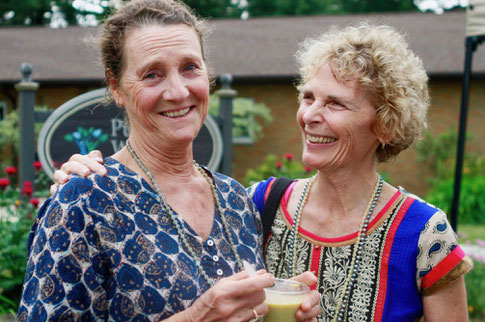 Shari Friedrichsen (right) with guest
     Finally, we (all 200 of us) assemble in the main meditation room. Everyone takes their seat on soft new seat cushions as peace and a deep sense of calm float through the air. A beautiful divine voice begins to chant OM and everyone joins in.  After the third Om, Sri Sukta is recited.  This is an ancient 16 stanza mantra from the Rg Veda to invoke Sri, the Divine Mother.
     I am somewhat bewildered that everyone, or so it seems, knows this lengthy 9-minute mantra except me.  Oh well.  I let the vibration of the mantra nourish my body as 200 voices chant in unision to invoke Sri.
     The sun is now in full bloom and all of the divine forces have been invoked and set into motion.  As we exit the main door, we receive tilaka, a red dot on our forehead and ladoo, a sweet indian cookie.  40 years ago, this Temple was only a vision from the man who founded the Institute, Swami Rama.  Now, as we step outside with gratitude and love for what has come into fruition from a long ago dream, we are reminded of the power of intention: sankalpa.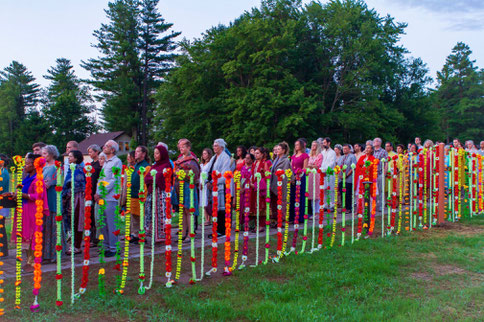 waiting to enter the Shrine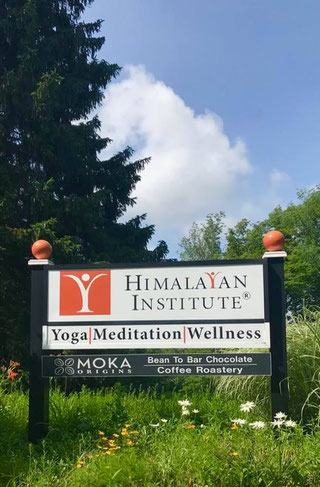 Entrance to HI.  Yes!  They even have a chocolate and coffee factory up here!
---
July 2019
In last month's newsletter, I announced a YLM (year long meditation) event starting on Tues. July 16, 2019, and encouraged, well actually, urged you to sign up (it's free!). You still have time! This is a one of a kind event happening around the world for a more powerful collective intention of world peace.
When a collective group of people around the globe turn inward to find their own inner peace, the effects can manifest outwardly and a powerful shift may occur in our collective consciousness, bringing a sense of peace to our society; a society that's been riddled with fear and anxiety. You can commit to one minute a day, or 5 minutes, or for as long as you want to meditate per day.
And if you don't know how to meditate, no worries.... we got you covered. YOY has 4 free meditations of different lengths - 3 minutes to 20 minutes - on our website's homepage. To kick off YLM, YOY is also hosting a meditation workshop ($10) on Sunday, 7/14 from 11-12pm to jump start YLM.
The newly built Sri Vidya Shrine (below) in Honesdale, PA, will host YLM and Pandit Rajmani Tigunait, Spiritual Head of the Himalayan Institute, will lead the consecration. This beautiful building has been built for the sole purpose of going inward to meditate. I'm thrilled to be a part of the unveiling ceremonies July 16-28, of which will include the transmission of energies from ancient Himalayan Masters... chock full of fire rituals, mantras, chants and other sacred practices to seat the forces of power into this new Temple. I look forward to sharing my experiences with you when I return.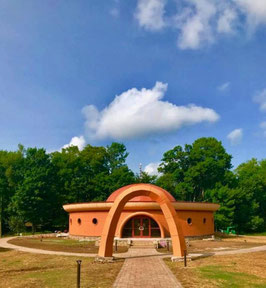 ---
June 2019
I'd like to share an important event taking place in July and it has to do with the power of collective consciousness. Best of all it's free. No money. But it takes commitment. You in? Then read on. What you need to do is meditate for one full year. You can decide how long each day: 5 minutes, 20 minutes, 1 hour. Track and total up your time with a nifty app designed for this challenge. Then, your number will be multiplied by the thousands of people who are also taking this pledge to meditate for one full year. Pandit Tigunait, Spiritual Head of the Himalayan Institute is striving for 1,000,008 hours from everyone participating.
For the first two weeks of this meditation event, July 15-28, I'll be at the Himalayan Institute (Honesdale, PA) practicing live with a large group of yogis and Pandit Tigunait. This one year practice is to celebrate and consecrate the unveiling of the new Sri Vidya Shrine Temple that Swami Rama envisioned back in the 1970's. Now, 40 years later, it is almost here. Learn more and watch a short 2 minute video 
here
.
I sincerely hope you'll consider joining me in this challenge.  
Jayne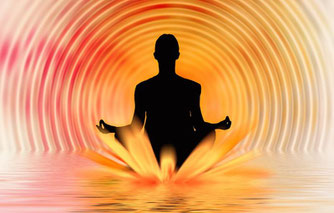 ---
One of yoga's most popular postures is named after our canine friends: downward facing dog. So doesn't it just seem natural that dogs should be practicing, too? I used to have a dog that would lay down on my mat as soon as I rolled it out.  Even though dogs can't do the majority of the normal yoga postures, they enjoy stretching, dog massage and the calming energy of a practice. The concept of Doga was created by Suzi Teitelman, a Jacksonville yoga teacher, and one of my former students, Kater Leatherman, who teaches Doga in Annapolis.
---
According to the yoga tradition, nature is our Divine mother and she is supremely elegant. She is efficient and doesn't waste any energy. She helps to calm our nerves when we've been inside on the computer too long. She gives us food and the breath we need for breathing. She grows beautiful blossoming trees we pass on our way to work. How can we not notice those bright green budding leaves sprouting out all over the maples and oaks? And, most importantly, she gives and doesn't ask for anything in return, except to treat her with love and respect.
This Monday, April 22, please take pause and a few deep calming breaths to remember our Mother. Maybe before wrapping your teeth around that first bite of food on Monday, stand in Tadasana (mountain pose), feel the earth beneath your feet and raise your water glass to the earth: "Here's to the sun that grows the seeds, and to the water and dirt and worms and winds that help grow our food to keep us healthy in body and mind." 
"

I thought the earth remembered me,
she took me back so tenderly,
arranging her dark skirts,
her pockets full of lichens and seeds.
I slept as never before, a stone
on the riverbed, nothing between me
and the white fire of the stars but my thoughts,
and they floated light as moths
among the branches of the perfect trees.
All night I heard the small kingdoms breathing
around me, the insects, and the birds
who do their work in the darkness. All night
I rose and fell, as if in water, grappling
with a luminous doom. By morning
I had vanished at least a dozen times
from 
Sleeping In The Forest
 by Mary Oliver
---
March 2019
Spring has arrived on this day of a SUPER moon and it feels like an auspicious one. Night and day are equal lengths....equinox means equal. In the yoga tradition the sun is honored as it gives us energy and the moon is honored as it calms our mind. Hopefully you are finding balance in your sun, moon and internal equinox.
"

And then March swept in with its breezes and rain, readying the lands for spring with scattered bursts of sudden color, rising from the dull ground while announcing their desire to breathe life again. I don't know anything about certainty or being sure or steadiness in this unforgiving world. But I do know about seasons, especially spring. Spring always comes again

." Victoria Erickson.
---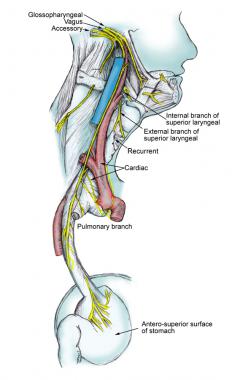 February 2019
I've had a longtime fascination and curiosity about the vagus nerve, the largest cranial nerve in our body. So, I recently read two books on the VN and WOW!..... I'm astounded at how this nerve rules our body. AND I also found that yoga plays a key component in keeping this nerve toned because of the amount of breath work we do for our nervous system. 
Viva Las Vagus
The vagus nerve is like hitting the jackpot in our body.  It starts at the brain and weaves its way down and throughout the torso, sending signals through the cells to all of our organs: lungs, heart, gall bladder, liver, pancreas, kidneys and down into the gut and the digestive organs.
This nerve is connected to a lot of our inner "stuff" including physical, emotional, and social. Just as we keep our muscles and body toned, we also need to tone our vagus.
---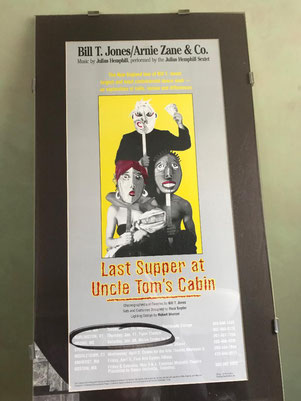 January 2019
28 years ago today (Jan. 17, 1991) I performed in The Last Supper At Uncle Tom's Cabin a very controversial dance choreographed by Bill T. Jones. It was on the eve of the first Gulf War. Bill's company performed at the Flynn Theatre in Burlington, Vermont, the first stop on a national US tour.  The dance title came from his partner, Arnie Zane's favorite painting and Bill's favorite book. When Arnie was dying of AIDS in 1988, Bill and Arnie fantasized a "what if" dance. As the story goes, Bill said to Arnie: "What if we combine our two favorite works of art into a dance performance.  Well, Bill kept his promise to Arnie after he passed and created this evening length work that tackled social issues such as: justice, racism, homophobia, repression and faith. After 4-5 hours of rehearsing every night for two solid weeks, local dancers would join Bill's company to perform in the last of 4 acts called "The Promised Land."   The Last Supper...was made into a documentary and goes down in history as one of the most treasured modern dances of our time.  I have the performance poster framed on my living room wall (see above) and just now as I walked past it, I heard it say: "Pssst, remember me?" 
Take a moment this Monday to reflect on your "Promised Land" as we celebrate a great leader... MLK.
---